Additional Freestanding Modules
In addition to the Grade-Level Reading and Phonics subscriptions and the Back-to-School "Ramp-Up" units, Lucy Calkins and her TCRWP coauthors have created supplemental freestanding virtual modules to meet specific classroom needs.
These modules are recommended for all classrooms, whether you choose the support provided by the grade-level UOS Virtual Teaching Resources or teach only with your print Units of Study. Please see pages 10–13 of the Overview Brochure for detailed descriptions of each module.
Explore the Up the Ladder Reading and Writing Modules
Who Should Consider These Subscriptions?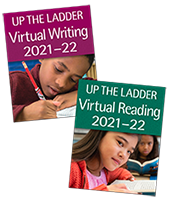 These virtual teaching resources are designed for those who are using the print reading and writing Up the Ladder units. The Up the Ladder units for grades 3 and up offer less experienced readers and writers (as well as their teachers) opportunities to bolster foundational skills and engage in repeated successful practice in order to move rapidly along a gradually increasing progression. Teachers may use these minilesson videos as models of concise, engaging, and effective minilessons. Those teaching remotely may wish to share the minilesson videos directly with students as well.
Components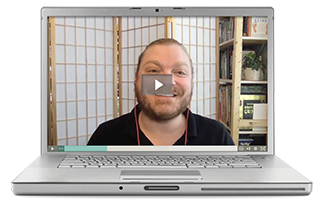 Minilesson Videos
These videos are recommended for use by teachers as models for effective, engaging teaching. In addition, teachers in classrooms that will remain virtual may share these videos directly with students.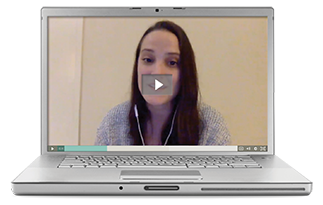 Introduction for Teachers and Introduction for Families
Each unit also contains a parent/caregiver video explaining ways to support children's literacy development at home.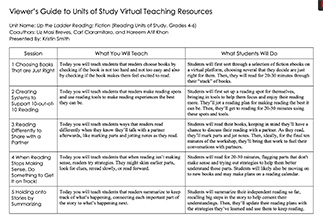 Viewer's Guide
These pdfs (1 per unit) contain an abbreviated list of the main teaching points and goals for each session as well as all the materials you will need to teach them.
Please Note: These Virtual Teaching Resources are meant to supplement the print Up the Ladder units of study—users are required to be registered for Online Resources for the print units.
Sample Videos
Up the Ladder Reading: Nonfiction,
Session 1: "Reading to be Fascinated"
Up the Ladder Writing: Opinion,
Teacher Introduction Video
Explore the Reading Partners Modules
In this series of videos designed for grades K–2 and 3–6, TCRWP staff developers become students' virtual reading partners, recommending irresistible series books as well as sharing the kind of reading work that will support rapid movement up levels. The TCRWP instructor acts as a proficient partner, coaching the reader in reading strategies, and in places to stop and jot, as they move across each book.
Available in four groups of levels (A–J, KLMN, OPQR, and STUV), these virtual modules may be used on their own, or in conjunction with the grade-level Units of Study for Teaching Reading and Phonics 2021-22 Virtual Teaching Resources subscriptions.
Components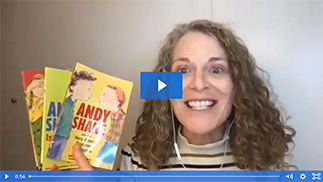 Before the Read/Book Buzz Videos
In the Levels A–J module, the "Before the Read" videos give students practice with phonics skills that will come to play in the book. In the KLMN, OPQR, and STUV Reading Partners modules for the intermediate grades, the Book Buzz videos (1 for each series) help create interest in the series by giving students an introduction to the series they are about to read.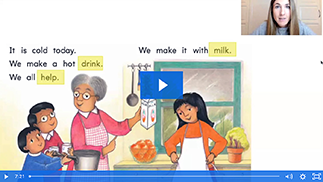 Reading Partner Videos
The heart of these modules is the collection of student-facing videos that feature TCRWP coaches. In these videos, TCRWP Staff Developers engage individual readers or reading partners, give invitations and feedback to support students in doing the work that each specific series (and band of text complexity) requires, and hold students accountable for the reading work they are doing.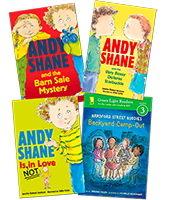 Trade Books
For the Levels A–J module, no trade books are required as an additional purchase; students will read the books online with the staff developer. For Levels KLMN, OPQR, and STUV, teachers will also need the TCRWP Classroom Library Shelves that have been curated to accompany the videos in these modules. See the Companion Classroom Library Shelves section in the "Ordering Information" section below.
Sample Videos
Reading Partners: Guiding Readers Up Levels (A–J), Level E Sample Video: Cold Day, Hot Chocolate
Reading Partners: Moving Readers Up Levels (KLMN), Level N Sample Video: Jada Jones Series
Explore the Reading and Writing Comics Module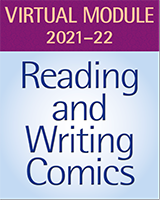 In this engaging unit, students will author comic books that can become reading material for each other. That is, they have an important reason to use their imaginations, their art skills, their story ideas and their phonological awareness and phonics skill to create—and spell—readable texts.
Although the unit was created with student engagement at its heart, it is also designed to teach a sequenced, research-based, assessment-based curriculum to provide kids with the explicit instruction, opportunities for repeated practice, accessible texts, feedback and supportive community they need to get traction as readers and writers, making demonstrable, important progress.
Who Should Consider This Subscription?
This engaging virtual module is for Rising Grades 4–6 students who need significant extra support with foundational reading and phonics skills. A screener is included in the module to help teachers identify students who will be most likely to benefit from particular sequence of instruction
Components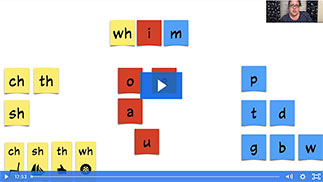 Phonics and Phonemic Awareness Minilesson Videos
Each of the sessions includes student-facing phonics and phonemic awareness minilesson videos that are uniquely tied in with the storyline of the Dust comic series that they will read together before moving into their independent comic reading and writing. This unit also includes an introduction video for teachers and a video for families/caregivers.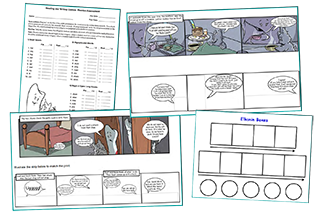 Digital Student Notebook (PDF) and Other Digital Resources
Digital resources that support the work of the unit include an assessment/screener document to help determine which students will most benefit from these lessons, paper choice PDF files, digital Student Notebook (PDF) files, which students will fill out with text captions and illustrations for the comic strips, and additional supporting resources.
Comic Artist Cameo Videos
In addition to the phonics and phonemic awareness lessons, this module includes Comic Artist Cameo Videos from various published comic book authors and illustrators. You can choose to share those exciting videos with your students at any point throughout the unit to help build momentum.
Sample Video
Grades 4–6, Reading and Writing Comics, Session 1: "WHAM! Using Digraphs with Short Vowels"
Platform Demo Video
Preview the Units of Study Virtual Teaching Resources platform. Note that although this video references the 2020-21 Virtual Teaching Resources, the platform shown here is utilized by the 2021-22 Virtual Teaching Resources subscriptions as well.
Ordering Information
Planning Support/Terms and Conditions
Each teacher who will use the 2021-22 Virtual Teaching Resources must have his or her own subscription that will be valid for use only with his or her own students. Subscriptions are not shareable or transferrable.
All freestanding subscriptions may be activated beginning on July 26, 2021 (or the purchase date if purchased after July 26) and will end on June 30, 2021.
Purchases of subscriptions made after the start date will not be prorated.
The email address you supply with your order is the email to which Heinemann will send the subscription activation code(s) for your order. For school or district orders, that person must be prepared to receive, distribute, and track subscription activation codes.
Returns and exchanges of subscription activation codes will be accepted prior to activation and must be requested by September 30, 2021 or within two weeks of receipt of your order, whichever is later.
Unlike the grade-level Reading and Phonics Virtual Teaching Resources, these modules do not require the use of the print Units of Study.
Required and recommended trade books: Teachers will need copies of specific trade books to teach some of the virtual units, along with enough books to support a high volume of student reading across all units. See the Required and Recommended Trade Books List for complete details on necessary trade books and additional recommended titles and series you may wish to consider as you provision classrooms.
Order Forms for All 2021-22 Virtual Teaching Resources
The order forms below list all the available 2021-22 Units of Study Virtual Teaching Resources. See the "Option 3" section for these additional freestanding modules. To purchase online with a credit card, click on the subscription thumbnail images below.
Up the Ladder Subscriptions and Related Print Units
Reading and Writing Comics Virtual Module
Reading Partners Virtual Modules and Companion Classroom Libraries Shelves
Additional Virtual Teaching Resources
For information on the Grade-Level Reading and Phonics subscriptions and supplemental freestanding virtual modules, visit the Virtual Teaching Resources 2021-22 webpage.