Units of Study in Phonics
Grades K-2
Grades K and 1 now available for Preorder!
Overview and Samplers Download Flyer Sign Up for Updates
To create these new phonics units, Lucy and her coauthors have drawn on all that they know from decades of teaching reading and writing in thousands of classrooms across the world, and they've relied on proven, research-based practices—especially on the work of Isabel Beck, Donna Scanlon, Pat and Jim Cunningham, Rollanda O'Connor, Marilyn Adams, Tim Rasinski, Donald Bear, Wiley Blevins, and the late Marie Clay.
The new Units of Study in Phonics, Grades K–2: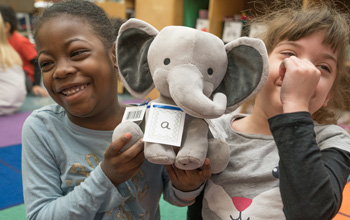 provide a lean and concise instructional pathway in phonics that is realistic and doable, and that taps into kids' skills and energy for tackling the fabulous challenge of learning to read and write,
introduce high-leverage phonics concepts and strategies in a way that keeps pace with students' reading and writing and helps them understand when, how, and why they can use phonics to read and write,
offer delightfully fun and engaging storylines, classroom mascots, songs, chants, rhymes, and games to help students fall head over heels in love with phonics and to create a joyous community of learners,
align with state-of-the-art reading and writing workshops for a coherent approach in which terminology, tools, rituals, and methods are shared in ways that benefit both teachers and kids.
In the hurly-burly of classroom life, every minute you spend on one subject is less time spent on another subject. Lucy and her coauthors aim to protect time for authentic reading and writing, while also helping you teach a rigorous, research-based phonics curriculum.
Frequently Asked Questions
Overview
Phonics is for Reading and Writing
Nuts and Bolts of the Phonics Units
Meeting the Needs of All Students
Purchasing Options
Ordering Guidance:
Each teacher will need one set of Units and one Resource Pack. (Note: The Resource Pack materials for each grade level are extensive and come packed in two boxes.)
In addition, schools will need to plan for some other resources including a stuffed elephant or lion (Mabel and Rasheed—our K and grade 1 mascots) for each classroom, plus some other classroom materials, such as white boards and magnetic letters, that many classrooms already have.
Shortly after the grade level sets are published, we'll make inventory/shopping lists available to help schools and districts plan for all the other common classroom resources teachers will need in addition to the Heinemann Units and Resource Packs.
Phonics Units for Grades K—1
*Grade 2 to come in early 2019.*
Resource Packs for Each Grade Level
A Note About Resource Packs: The Resource Packs are composed of resources made from good-quality card stock, all beautifully illustrated and printed in 4-color. Resources include alphabet charts, many other types of other charts, letter cards, word cards, picture cards, printed copies of poems and songs, other cards such as onset rime cards and vowel picture cards, and much more—about 40 pounds of resources per grade level! (Note: Resources for each grade level come packed in two boxes.) While these items won't last forever—especially when used by many small hands—they are not meant to be consumed and re-purchased every year. Heinemann will offer replacement sets in smaller subsets of the big package, so that, when the time comes, schools and districts can replace worn or lost card stock.
Related Resources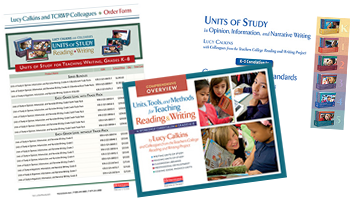 Learn More in the Resource Center