Units of Study in Writing, K–2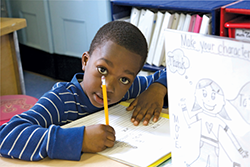 The Units of Study in Writing are designed to support students' abilities to be strategic, metacognitive writers. Within and across grades, units fit tongue-and-groove alongside each other. Together, they help students consolidate and use what they have learned to meet and exceed world-class standards for each grade.
Series Components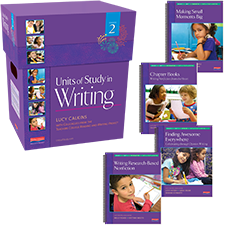 Each of the four Units of Study in Writing for each grade level offers a sequenced set of daily sessions in narrative, infor­mation or explanatory, and opinion or argument writing.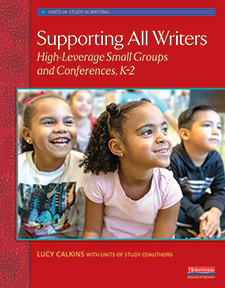 Supporting All Writers: High-Leverage Small Groups and Conferences, K–2 provides easy access to ready-to-teach small groups and conferences around major writing goals.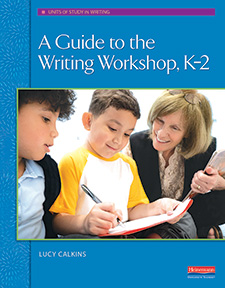 A Guide to the Writing Workshop, K–2 provides an overview of the essentials of a writing workshop, including the all-important methods and practical management tips.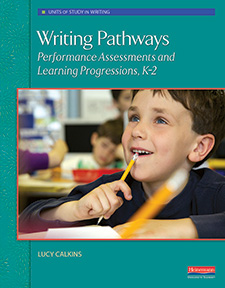 Writing Pathways: Performance Assessments and Learning Progressions, K–2 contains the assessment system for the K–2 units of study.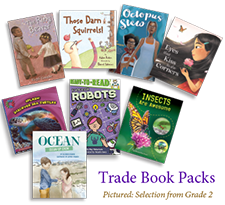 In the Online Resources, you'll find a rich array of digital resources to support each unit of study. (See below for more information about digital content.)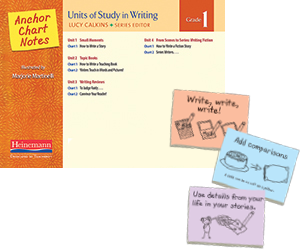 Anchor Chart Sticky Notes featuring each day's teaching point help teachers create and evolve anchor charts across the units.
---
Digital Content Overview
Online Resources (included with the core units sets) offer digital access to:
anchor charts
assessment tools
demonstration texts
small group and conferring tools
instructional videos
Spanish-language video introductions for every session across all units
Spanish translations of teaching points, anchor charts, and assessment resources
Premium Digital Content (available by subscription as an optional purchase to users of the core units sets) includes:
videos of staff developers teaching all minilessons (ideal for teacher professional learning and for remote teaching)
digital access to all of the books in the core units set
Both the Online Resources included with every core set and the Premium Digital Subscriptions for the new units will be hosted on a brand-new platform that will organize digital content all in one place and allow administrators to monitor and manage teachers' access.
Check back for more information about the new platform.
The minilesson videos in the Premium Digital Subscriptions for grades K–2 are designed to serve as valuable exemplars for effective, concise, and engaging minilessons, exemplars that can help teachers lift the level of their teaching. Each minilesson is modeled by a TCRWP staff developer and can serve as powerful professional learning for individual teachers and for teams as they plan instruction. Additionally, teachers may share these videos directly with students to support remote teaching.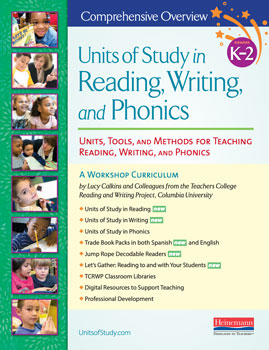 Download the K–2 Series Overview
Ordering Information
The order forms below list all the purchasing options for the new K–2 Writing Units of Study. Be sure to reach out to your local Heinemann sales rep for guidance with purchasing. Online ordering coming soon.
Please Note: Out of the Box Units, which will offer teachers the opportunity to customize their yearlong sequence by adding a fifth unit to their core units sets, will be available separately from the core sets in 2023.Titles will include How-To Writing, Poetry, and Fairy Tales. More details to come shortly.
Related Resources