Units of Study in Phonics, Grades K-2
To create these new phonics units, Lucy and her coauthors have drawn on all that they know from decades of teaching reading and writing in thousands of classrooms across the world, and they've relied on proven, research-based practices—especially on the work of Isabel Beck, Donna Scanlon, Pat and Jim Cunningham, Rollanda O'Connor, Marilyn Adams, Tim Rasinski, Donald Bear, Wiley Blevins, and the late Marie Clay.
---
The new Units of Study in Phonics, Grades K–2: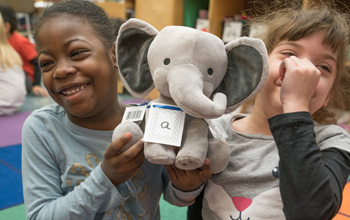 provide a lean and concise instructional pathway in phonics that is realistic and doable, and that taps into kids' skills and energy for tackling the fabulous challenge of learning to read and write,
introduce high-leverage phonics concepts and strategies in a way that keeps pace with students' reading and writing and helps them understand when, how, and why they can use phonics to read and write,
offer delightfully fun and engaging storylines, classroom mascots, songs, chants, rhymes, and games to help students fall head over heels in love with phonics and to create a joyous community of learners,
align with state-of-the-art reading and writing workshops for a coherent approach in which terminology, tools, rituals, and methods are shared in ways that benefit both teachers and kids.
In the hurly-burly of classroom life, every minute you spend on one subject is less time spent on another subject. Lucy and her coauthors aim to protect time for authentic reading and writing, while also helping you teach a rigorous, research-based phonics curriculum.
---
Series Components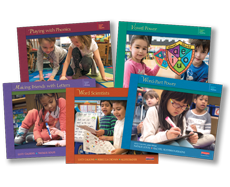 Units of Study
Grades K–2 include five units, which are each designed to be taught roughly at the same time as the corresponding reading and/or writing unit of study, keeping pace with those units.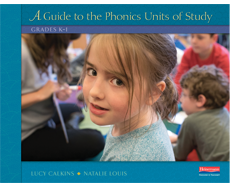 A Guide to the Phonics Units of Study
Describes the essential principles, methods, and structures that undergird this phonics curriculum along with an overview of the developmental progression that the series supports.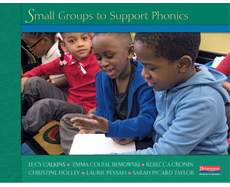 Small Groups to Support Phonics
Offers support in coaching into the work that students do during each session and in leading small groups to support students in transferring their phonics learning to their ongoing reading and writing.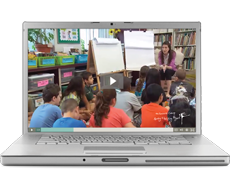 Online Resources
Each unit includes downloadable, printable pdfs of the materials included in the resource packs, links to videos, assessment tools, small group resources, and more.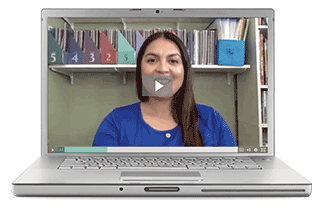 Virtual Teaching Resources
(Available for Separate Purchase)
These resources offer teacher, student, and family/caregiver videos. In the student-facing videos, TCRWP staff developers teach each minilessons on camera as "co-teachers," freeing classroom teachers up for live conversations, small group work, and more.
---
Phonics Units for Grades K—2
---
Related Resources
Learn More