Up the Ladder
Reading and Writing Units of Study
Now available with Virtual Teaching Resources to supplement the print units
When Lucy and her coauthors worked on the Units of Study, they had to make a choice whether to "make shoes that fit—or shoes to grow into." They chose the latter, writing that curriculum for kids who are growing up within Units of Study reading and writing workshops. This means that each unit assumes students have experienced the unit that came before it. But that, of course, won't be the case for upper-grade students entering reading and writing workshops for the first time.
The Up the Ladder books are designed to help classes with upper-grade students who are new to workshop instruction or who are currently working below benchmark levels.
The units meet students where they are and accelerate the development of their skills in narrative, information, and opinion writing (in the 3 writing units), and fiction and nonfiction reading (in the 2 reading units).
The Up the Ladder units are designed to be absolutely engaging for students in grades 3 and up, but the primary goal has been to ensure that students make rapid, dramatic progress toward grade-level work.
The TCRWP staff spent a long time studying how to successfully accelerate children's growth in reading and writing. They analyzed the progression of skills taught across elementary and middle-school grades, identified the most critical foundational skills, and then devised the Up the Ladder units to give students a clear pathway to support the development of these key skills.
Series Components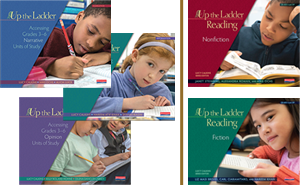 Up the Ladder Units
Writing Units: Narrative, Information, Opinion
Reading Units: Fiction, Nonfiction
A Guide to the Up the Ladder Units
The Guide orients teachers to the Up the Ladder writing units, providing guidance on the essential principles, methods, and structures of effective writing workshop instruction. Note: available for the Up the Ladder writing units only.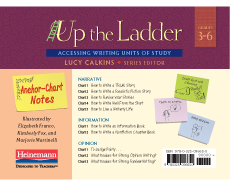 Anchor Chart Sticky Notes
The teaching points for each day's instruction are illustrated on large-format sticky notes to help teachers create and evolve anchor charts across the units.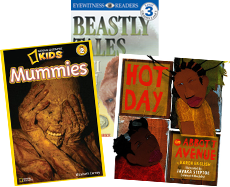 Trade Book Packs
The Up the Ladder Reading units come with trade books designed for teachers to use as demonstration texts, modeling skills and strategies taught in the units. Note: available for the Up the Ladder reading units only.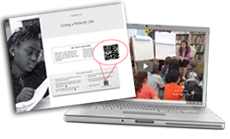 Online Resources & Demonstration Videos
The Online Resources include downloadable anchor charts, paper-choice templates, student checklists, Spanish translations of select resources, and more. QR codes at point-of-use link to videos featuring TCRWP Staff Developers modeling instruction.

Watch a minilesson demo video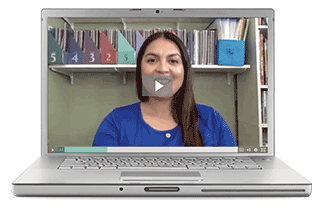 Virtual Teaching Resources
(Available for Separate Purchase)
These resources offer teacher, student, and family/caregiver videos. In the student-facing videos, TCRWP staff developers teach each minilessons on camera as "co-teachers," freeing classroom teachers up for live conversations, small group work, and more.

Watch a sample student minilesson video
Who should choose the Up the Ladder Units?
Teachers whose students are new to reading and writing workshop
Teachers who want to help students accelerate their progress
Teachers who want to give their students a refresher in reading and writing workshop fundamentals
Note that Up the Ladder units are not meant to be an alternative to the core Units of Study, but rather a ramp to accelerate kids to the grade-level work they will do in those units.
Grade Level Ranges
Up the Ladder Writing Units — grades 3-6
Up the Ladder Reading: Fiction — grades 3 and up
Up the Ladder Reading: Nonfiction — grades 4-6
Virtual Teaching Resources
The TCRWP community has developed resources to support blended or virtual teaching. Each subscription includes the following and expires on 7/29/21:
Student-facing Minilesson Videos recorded by TCRWP Staff Developers offering heart-to-heart minilessons for each unit (2 units for Up the Ladder Reading, 3 units for Up the Ladder Writing).
Professional Learning Videos: a set of very brief videos for teachers are interspersed throughout the unit that suggest and explain adaptations to the units
Parent/Caregiver Videos (1 for each unit) that explains ways to support each child's literacy development across the weeks of the unit
A Quick Guide to Virtual Teaching for the Units of Study with FAQs, guidance on virtual workshop essentials and best practices, support for setting up routines and systems, and tips for planning and filming your own virtual teaching (downloadable PDF)
Subscription Details and Ordering Information
Please read the following information to help ensure accurate and timely fulfillment of your order.
Subscriptions are accessible from date of purchase until July 19, 2021.
Subscriptions are not shareable. Each subscription includes access to resources for one teacher and up to 75 of that teacher's own students.
Virtual Teaching Resources subscriptions are available ONLY to users of the print Units of Study in Phonics who have active Online Resource accounts and who have registered their print units in their Online Resource accounts. Educators will be required to register their print units before they will be able to access corresponding UOS Virtual Teaching Resources (detailed instructions on how to register are included in the frontmatter of the print Guides and Unit Books).
The email address you supply with your order is the email to which Heinemann will send the subscription activation code(s) for your order. For school or district orders, that person must be prepared to receive, distribute, and track subscription activation codes.
Each keycode is valid for only the exact number of subscriptions ordered. Do not test codes if you are not the final recipient.
Subscription orders placed on the Heinemann website will be fulfilled immediately. Orders placed by email () with this Order Form (see page 3 for Up the Ladder) will be processed by Heinemann Customer Service as soon as possible.
Volume Discount: Order 50 or more subscriptions and save 15%. Offer valid only on subscriptions.
Samples
Frequently Asked Questions (FAQs)
Note: the following videos refer to the Up the Ladder writing units. FAQs for the Up the Ladder reading units are coming soon.
Introduction
Overview of the Units
Planning Instruction
Assessment for Learning
Support for Teachers
Learn More in the Resource Center
Purchasing Options
Writing Units
Reading Units
Related Resources
For more information about the Units of Study in Reading and Writing and to see additional purchasing options, see the K-5 Writing Units, the K-5 Reading Units, the Middle School Writing Units, and the Middle School Reading Units webpages.