Jump Rope Readers: A NEW Series of High-Quality Decodable Books
Michael Rae-Grant and Lucy Calkins, Series Editors
What makes a book "just right" for a beginning reader? The answer is simple. A book is just right if the child can read it and wants to read it. Anything else is "just okay" at best.  But, if you work with beginning readers, you know it's not easy to find these "just right" books.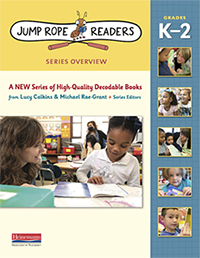 On the one hand, there are books that beginners want to read but can't. Most picture books and chapter books fall into this category.  Surprisingly, so do many of the early readers and I-can-reads you see in libraries and bookstores. On the other hand, too many of the decodable books that we see in classrooms aren't particularly enticing, even if beginners can read them. We think beginning readers deserve better.
We want all readers to begin as we aim for them to continue—with enthusiasm for reading and excitement to pick up the next book.
Download the Overview
View Samples and Summaries
Introductory Video from Lucy Calkins and TCRWP Coauthors
"Teachers and students in our district have been loving the Jump Rope Readers. As a district, we purchased several different brands of decodable texts to find what teachers and students liked best and over and over, we hear how the Jump Rope Readers are the easiest to use and that students love the beautiful pictures and great story lines. We are grateful for this resource that allows us to easily match students to books that match the phonics work they are currently doing and that the books provide such lovable and fun stories."
— Jenn Nelson (Saline Area Schools, MI)
---
Four Key Qualities of Beginner Books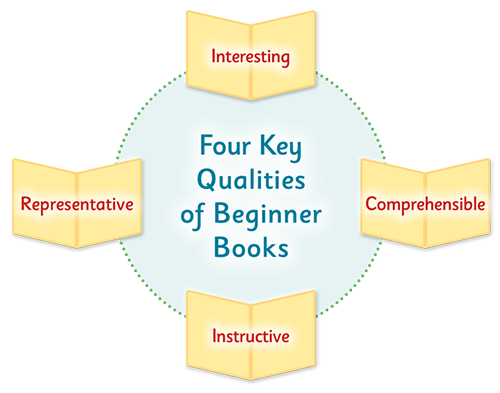 Influential reading researchers Richard Anderson and Freddy Hiebert described the key qualities that educators should look for in books for beginning readers in a report they wrote for the National Academy of Education. They wrote:
"Writing the first selections a child will read is a difficult balancing act. Ideally, the selections will be:
interesting (so that students will want to read them);
comprehensible (so that students are able to understand them); and
instructive (so that students will learn from them)."
Of course, a quality that underlies all of this is representation. When books are an accurate reflection of our beautifully diverse world, children find them consid­erably more interesting and comprehensible, so we added that foundational idea to the list of essential priorities that informed the development of the Jump Rope Readers series.
---
Interesting and Comprehensible
As you explore the Jump Rope Readers, you'll notice the books are arranged into different series, each starring a distinctive main character. There's Nick, who loves dinosaurs, and Ana with her big imagination, Tam, who's full of energy and mischief, Imran, who's a bit shy at first, and many more. In addition to getting to know these lovable main characters, we also get to know their diverse families. All the Jump Rope Readers take place in the same dynamic, inclusive urban neighborhood, so characters from earlier books make special guest appearances in later ones, extending stories in ways that will engage and delight beginning readers.
The fact that the Jump Rope Readers are arranged into series makes them more engag­ing to kids, and also makes them especially comprehensible. Series books feature familiar characters who react to problems in predictable ways. Once kids know who the characters are, they know what to expect, and this helps them follow the story. To ensure that kids understand the key characters and their relationships, each series begins with a "book one" that lays out these elements. In set A, "book one" is a pic­ture book that teachers can read aloud to kids. In set B, it's a decodable book that kids can read on their own.
Example: Titles in the Red Series, featuring Tam and Nat

---
Representative
When kids open a book and see characters who look, live, or act like them, it helps them connect not only to the characters, but to the act of reading.

---
Instructive
Like all decodable books, the Jump Rope Readers start off simple, then gradually grow in complexity as more phonics content is added. The books follow a scope and sequence of letter-sound correspondences and high-frequency words that aligns with the phonics progression behind the Units of Study—and this same progression, or one quite similar to it, informs most other phonics programs as well.

Within this progression, the texts don't introduce every letter-sound correspondence in the English language (there are over two hundred), but rather focus on those letter-sound correspondences that occur most frequently in print, providing kids with an efficient path toward more advanced reading.
Overall, the scope and sequence offers a steady "ramp" into early trade books. By the time students have finished the last Jump Rope Reader, they'll have lots of letter-sound correspondences under their belts, and they'll be ready to tackle familiar series such as Fly Guy, Yasmin, Henry and Mudge, or Sofia Martinez. Ready, that is, for a deep dive into the wider world of children's literature.
To view the Scope and Sequence for the titles within each set, check out the Series Overview (pages 10 & 12).
---
Series Components
The Jump Rope Readers series consists of 66 high-interest decodable books and six accompanying read-alouds, organized into two classroom sets, each composed of two boxes. Together, these books gradually and sys­tematically introduce beginning readers to new letter-sound correspondences and high-frequency words. Along the way, they also introduce memorable characters, exciting adventures, and the foundational elements of literary fiction.
Set A Includes: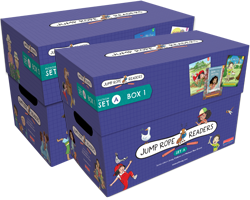 30 decodable books (6 copies of each) that introduce short vowels, consonants, bonus letters, blends, digraphs, CV words, and a small selection of high-frequency words.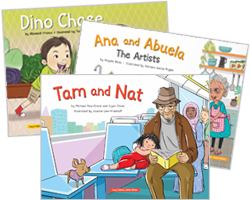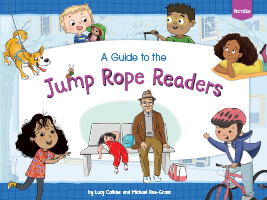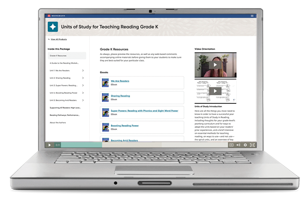 Digital access to readers
Set B Includes: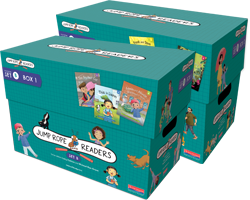 36 decodable books (6 copies of each) that introduce silent E, inflectional endings, vowel teams, R-controlled vowels, diphthongs, consonant -LE, soft C and G, the jobs of Y, multisyllabic words, and a broader selection of high-frequency words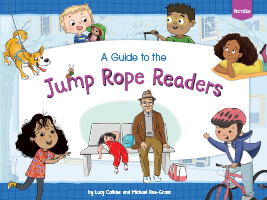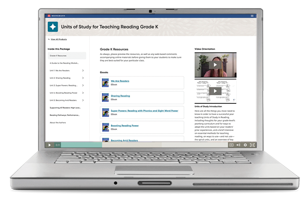 Digital access to readers
---
View Samples and Summaries
Click on the button below to read sample books from each box and view the book Summaries Chart. The Jump Rope Readers Summaries Chart offers a closer look at the engaging storylines in the books and important details about opportunities to practice phonics skills across the series. We suggest that you review this information to make choices about which sets you will use in your classrooms and whether you might want additional sets of certain boxes to allow more than 6 students at a time to access any given set within the series. The book summaries also convey the spirit of the Jump Rope Readers series, depicting a dynamic, inclusive, urban neighborhood and the diverse families who live there.

---
Series Introduction Videos from the Authors
Gold Series (Set A, Box 1) Introduction with Author Liz Franco
Purple Series (Set A, Box 2) Introduction with Author Harreem Khan
Grape Series (Set B, Box 1) Introduction with Author Sarah Mann
Blueberry Series (Set B, Box 1) Introduction with Author Jepilyn Matthis
Tangerine Series (Set B, Box 2) Introduction with Author Katy Wischow
Raspberry Series (Set B, Box 2) Introduction with Author Liz Franco
---
Ordering Information
The links below offer the online ordering options for the Jump Rope Readers. Please be sure to reach out to your local Heinemann sales rep to discuss your purchasing options.
Additional Purchasing Options
Individual Series Sets
---
Related Resources