Introducing the new Heinemann Flight Platform
For Digital Components of the New
Units of Study

in Reading and Writing, K–2

Both the Online Resources included with every core set and the Premium Digital Subscriptions for the new units will be hosted on Heinemann Flight, a new platform which organizes digital content all in one place and allows administrators to monitor and manage teachers' access.
New Units of Study: Digital Content Overview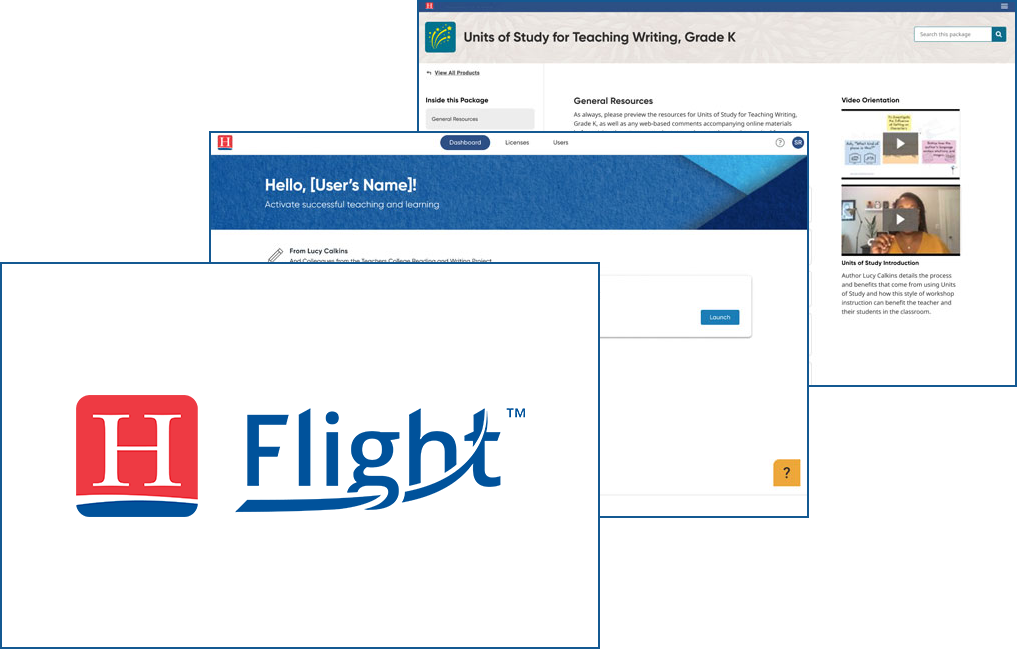 Online Resources
included with the core units sets
assessment tools
demonstration texts
small group and conferring tools
instructional videos
Spanish-language video introductions for every session across all units
Spanish translations of teaching points, anchor charts, and video introduction scripts
Premium Digital Subscription
available by subscription to users of the core units sets
videos of staff developers teaching all minilessons (ideal for teacher professional learning and or substitute teaching)
digital access to all of the books in the core units set
Please Note: Digital content related to previous editions will remain available on Heinemann.com.
---
Related Resources on Flight
Jump Rope Readers Series
The new Jump Rope Readers Series includes digital access to books
Initial access will include viewable digital readers and the Guide.
Phase 2 functionality (Fall 2022) will include features that allow the teacher to assign books to children to read at school or at home.
---
Managing Access to Online Resources and Premium Digital Subscriptions
Using the new edition this year (beginning October 2022)
License Administrators
Administrators will receive an email around October 26th when digital resources are ready to be distributed to teachers (this message will be sent to the email provided with the order).
The administrators who receive this email will be responsible for assigning licenses to teachers for the included Online Resources as well as any Premium Subscriptions in the order. (Note that these two access categories must be assigned separately.)
Please be sure to bookmark this webpage and check back for more important details, including:
Platform Demonstration Video
Guidelines on how to share licenses with teachers (including how to upload teacher rosters)
Guidelines on how to track and manage subscriptions
Teachers
Teachers will receive an email notification from Heinemann Flight once a license to a resource has been assigned by the school or district administrator.
Follow the instructions in the email to activate the account. First time users into Heinemann Flight are encouraged to tour the platform and click on the navigational help features.
Bookmark platform.heinemann.com for future access into the account and launch the product dashboard
Digital access for Reading Units of Study K-2 will be available in your Heinemann Flight account starting October 26, 2022. Beginning-of-the-year digital content (the Guide, Unit 1 and Unit 2) will be available first with additional content added as it becomes available.
Subsequent Units and corresponding resources will be added to your Heinemann Flight account on/around the following dates:
Unit 3: November 15, 2022
Unit 4: December 15, 2022
Unit 5: January 18, 2023
To access Online Resources for prior editions of Units of Study in Reading, Writing and Phonics log into an existing Heinemann.com account.
Shipment of the core sets of the New Units of Study in Reading, Grades K-2 will begin mid-December, 2022
The New Units of Study in Writing, Grades K-2 will be available in time for back-to-school 2023. Please check back here for updates regarding print delivery and corresponding digital release dates.
---